Read all about it. 
Hosting an industry event, showcasing a seasonal sale, or even relocating the business to a brand new locale? A FetchRev newsletter campaign is your best bet for broadcasting your message loud and clear. This crowd-reaching class of campaigns allows for the most customization and creativity, so it's important to keep abreast of best practices to ensure your content is clear, concise, and optimized. Follow these guidelines and get the word out for grand results.
Started from the Top

While hardly the flashiest part of your newsletter campaign, the top navigation bar comes directly after the identifying logo of your business and exists as an element that should not be overlooked. The goal of any navigation bar is to drive email recipients to your site, though it doesn't necessarily have to replicate the categories on your website exactly. Try including links to your most relevant pages, such as a service menu, location hours and contact information, and appointment booking. Most importantly, remember to preview your newsletter and test that all your links work and direct to the correct pages before you launch the campaign.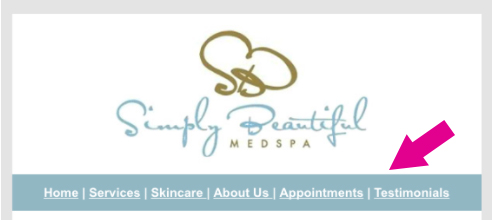 Caught in the Middle
Instead of overloading your newsletter with excess content, opt for a simple approach of bright, singular imagery and text that keep your additions in perfect correlation.

As we can see in the example above, close attention to detail was displayed by customizing the color scheme to replicate the branding of the business while simultaneously promoting a brand-new service in a professional and appealing manner. We've gone over the value of utilizing the right imagery and proper copywriting techniques in the past for purchasable and claimable campaigns, and the very same practices come into play here. For images, smiling transcendent people pull consumers in, and compelling, confident copy sells them on the service.

Conclude with a Call to Action

Whether your goal is to collect reservations, book appointments or generate revenue through an embedded offer, your newsletter absolutely must feature a call to action. Be that a book or buy now button, hyperlinked text, or just a clearly illustrated phone number to call, directing your clients to an end goal with clarity is an absolute must.


If a purchasable offer is the heart of your campaign strategy, then a newsletter is your voice. Leverage what's going on in your world to effective and valuable results with a FetchRev newsletter today.